Read our exclusive interview between ambassador and mountaineering legend Kenton Cool and ambassador Kristin Harila, from August 2022, following her successful completion of Phase 2 of the Bremont 14 Peaks Challenge.
KC: Where are you in the world right now?
KH: I am in the northern part of Norway. As far north as you can go and where I come from. It's totally flat here, there are no mountains.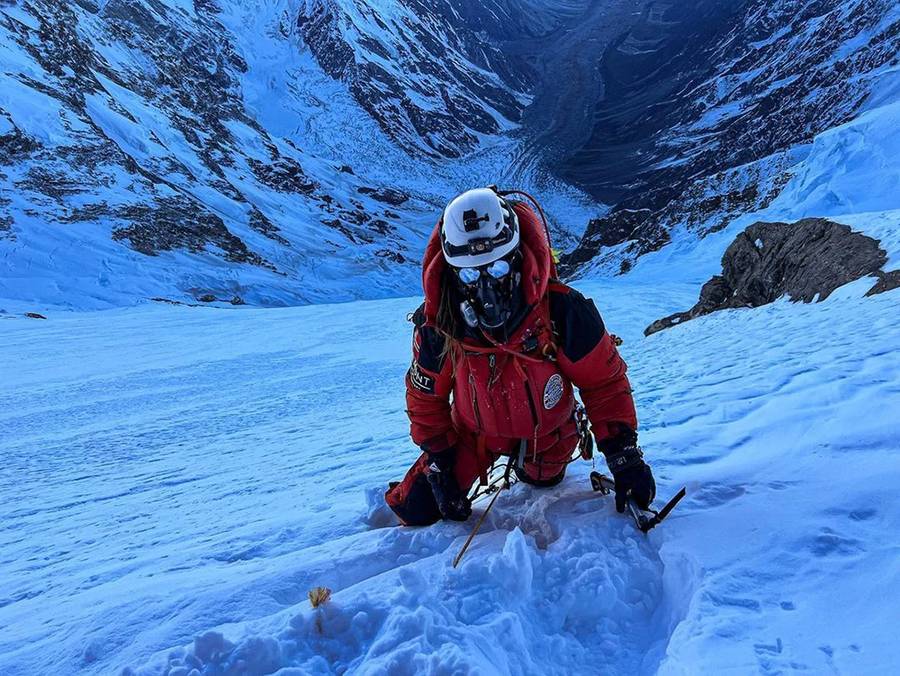 KC: Let's give the audience a little bit of background... So there's only 14 mountains on the planet which go above 8,000 metres and you have climbed 11 now? In just four and a half months?
KH: Yes, so right now, I have done 11 of the 14 peaks, over 8,000 metres. For the first one my plane left on the 8th of April and I think I've climbed one mountain every ten days now, so it's been very busy.
KC: Well, I think you're being very modest. It's not very busy, it's off the scale. It's incredible. You've done the first Nepalese section. You've also done the Pakistan section, which I've always thought would probably be the hardest, and you are now entering what we hope is going to be the last part of the project. But what we had in Pakistan was the hardest so far?
KH: Yeah for sure, it's been the hardest. Pakistan presented a lot of logistical issues whereas in Nepal it was so much easier because I know it so well. It was also so much warmer in Pakistan than in Nepal.
KC: What would your advice be for someone looking to make the step from 6,000 metre peaks to 8,000 metre peaks?
KH: I would perhaps try not to go all the way from six to eight, and look to make a step between at say 7,200m. It's important to go step by step, higher and higher, and see how your body feels. You get more experience and understand your capabilities that way. Thinking back, one of the hardest climbs of my life so far was actually a 7,002m on a very easy mountain. You have to be as prepared as possible, no matter the height.
KC: Your endurance levels have been incredible throughout the first two phases. The next phase is possibly the hardest, but not necessarily for endurance. What are the things that most concern you about the challenges with Phase 3?
KH: Permission to climb is possibly the most challenging thing at this stage. COVID cases are also rising right now which is making it more difficult than ever. So that's the latest news. I'm planning to leave for Nepal next week and start with the Manaslu climb, and then hopefully get the permission for the final peaks in time. We're still hoping to complete this challenge in October. That's the plan.
KC: In many ways it's such a shame that politics seem to infiltrate everywhere, if anybody is reading this and has any influence in China, I'm sure that we'd love your help to get you over the line. So, talk to us about Manaslu…
KH: Yes, so Manaslu is tough and I know that there will be a lot of people on the mountain this autumn because of the summits, and it's a popular 8,000 metre to climb. People have been missing the real summit on Manaslu, so I think there will be many more people this time around trying to get to the real summit.
KC: It could be a bit of a bottleneck, I guess? Manaslu is a big, open mountain and there's lots of space, but you get to the shoulder and then they all narrow into a ridge line going up. So, what's your inspiration for the challenge? What's the motivation?
KH: After my Everest summit last year on the way back down to camp two, I met so many of my teammates on the way. Everyone was happy and celebrating, and I was just so sad that it was going to be over. I thought to myself, okay, I need to have a new goal right away because I'll feel so empty after this expedition. I need to have something new to look forward to and push myself towards. So I called home to my dad and said 'Hey, I'm going to plan K2 in the summer'. When I came home, I had to go into quarantine in a hotel in Oslo and stay there for ten days.
KC: Oh, yeah. Awful.
KH: Yeah, but it was a good time to think. I was allowed to go out and run, during which I kept thinking more and more about these 8,000 metre mountains. After four years in this sport, I felt that it was very far from equal and that also pushed me to want to start it right away. I saw big equipment and clothes companies producing new collections for climbing and they were huge. It was impossible to find a down suit small enough to fit me so I had to make a custom one in Kathmandu! That made me think that if I'm going to change something in this sport and show that women are just as capable as men, the best way is to prove it through my actions. Traditionally, it's been a more male dominated sport. All of the books and films have been about men and people believe that men are stronger than women up in the mountains. I don't think that's true, we are just as strong.
KC: 100%. I had an ultra runner on my podcast today and we were talking about how the differences between males and females at the very top level are getting closer and closer, like the all time record for arguably one of the hardest ultra races in the world, which is the Spine Race in the UK. The outright record is held by women and I think it just shows you that the male dominated mentality is just not right, and people like yourself, you're championing this. So which watch are you wearing there?
KH: Supermarine S300. The strap looks loose because I got so skinny in Pakistan. I came home and I had lost ten kilos.
KC: Wow, ten kilos! Now, I'm going to be really rude, so forgive me. What did you weigh before if you lost ten kilos?
KH: A little bit more than 60, but I was preparing for 40, so I put on some extra kilos during the winter. For me, it's important on the expedition to have some power in reserve.
KC: What happened on Nanga Parbat with the injury?
KH: So the first thing that happened when we came to Pakistan was that I actually fell off the car. I thought that my arm was broken for a couple of days but then I was fine and we had a long rest in base camp. On the way down from Nanga summit we were trying to get all the way to base camp, but it was too late. It was dark and rocky. The next morning, we went down and only 2 minutes from base camp there was a river bed that was dried out. My Sherpa crossed it first but when it was my turn a huge rock hit my leg. I had a problem with walking correctly after and my leg was really swollen. I walked through the night from  base camp to the road. It took 12 hours to get to the hospital and the doctor was like, you cannot climb anymore. So of course, I was a little bit worried, but we had some time resting there and I think that was good for me in order to recover.
KC: Now I know that you've got a fantastic team with you but just tell us a little bit about these amazing individuals that are helping and supporting you do what you've been doing for the last four or five months.
KH: The teamwork is so important in this sport and in climbing these high mountains. If my Sherpas wanted to do all of them with me, I would take them with me because I think they do such an important job for all of us climbing 8,000 metres. Also, people climbing without Sherpas use fixed ropes normally. To me, it felt so much more important to do a project together than just do it for myself. So I wanted to share the project, and hopefully the record, with them.
KC: And so far you've climbed all 11 with the same incredible Sherpas?
KH: Yes, we are like a small family spending so much time together. They are super strong, carrying a lot, breaking trails, fixing rope. Sometimes I have three Sherpas, but two of them have been with me on all the mountains.
KC: In commercial climbing, which I'm involved with, they're just incredible because they too, I think in the easiest terminology, are animals at altitude. Their ability to carry loads and keep going is immense. OK, so where can people find you? Where can people follow the rest of your journey?
KH: Mostly on social media… Instagram and Facebook (@kristin.harila) is where we try to update as much as possible.
KC: Well, it's been amazing talking to you and I wish you all the best with the rest of this amazing endeavour!
ABOUT KRISTIN
Kristin Harila is a professional athlete from Norway. A former cross-country skier, Kristin currently runs her own guiding company and leads ski expeditions in the arctic. In May 2021, she set a world record becoming the fastest woman to climb Mount Everest and Lhotse in less than twelve hours. Her success in previous expeditions and summit attempts has inspired her to embark upon her latest challenge, 'Bremont 14 Peaks', a monumental effort to become the first woman in history and the second person ever to climb all 14 peaks above 8,000m in just 6 months. Only 44 people in history have summited all 14 peaks, in completing this challenge Kristin would also become the first person to do so from a Scandinavian country.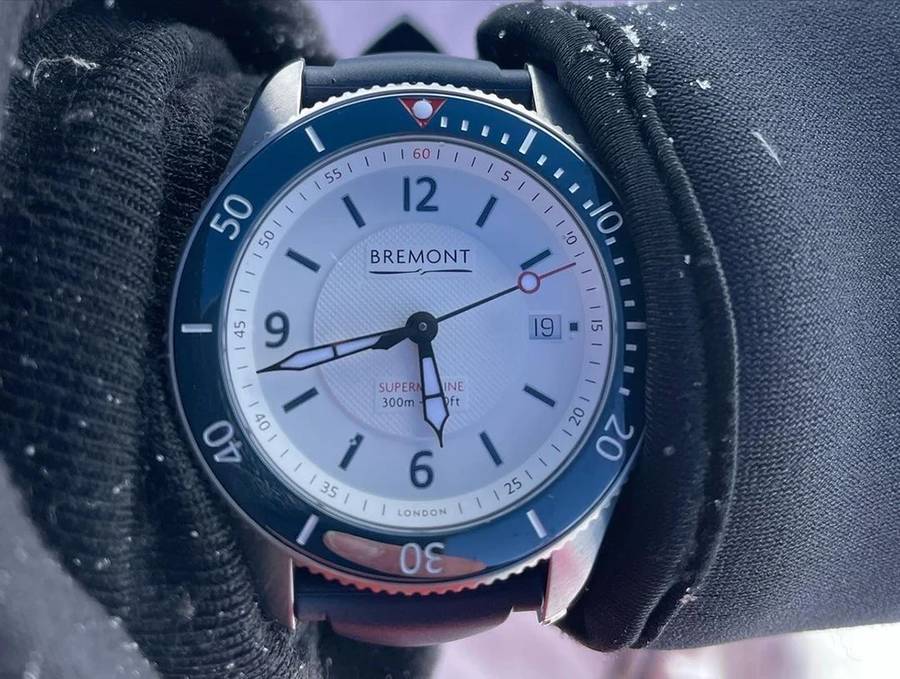 The Supermarine Collection
Tried and tested by many Bremont Ambassadors, the Supermarine collection is the go-to tool watch for any adventure. Built with an extremely robust Trip-Tick® case construction designed to protect its mechanical movement, the Supermarine comes in several iterations based on case size and water resistance. The S300 series is a 40mm dive watch with water resistance rating of 300m, providing a compact chronometer capable of withstanding the earth's most hostile conditions.