Bremont fulfils ambitious expansion plans for 2021 as it announces the opening of 5 new brand boutiques globally this winter. This follows the hotly anticipated opening of the brand's new headquarters earlier this year, the Bremont Manufacturing & Technology Centre, known as 'The Wing', based in Henley-on-Thames UK. 
Heralding a new chapter for Bremont and British watchmaking, Bremont has opened in China with a flagship boutique in Shanghai alongside 4 additional UK boutiques. As well as a new opening on St. Ann's Square in Manchester, Bremont now boasts a further 3 UK boutiques in a joint partnership with Signet Group in the prestigious shopping malls Bluewater, Cribbs Causeway and Birmingham Bullring.
Representing 50% of the world's luxury watch market, increasing the brand presence in the Far East with the opening in Shanghai is somewhat of a landmark moment. Located on the North Piazza of HKRI Taikoo Hui in the centre of Shanghai, the 1248 sq ft boutique presents the full Bremont collection, accessories and limited edition timepieces within Bremont's quintessentially British store environment. A VIP private client salon has been introduced alongside innovative displays to bring to life the compelling brand stories of British Engineering, Adventure and Aviation.
As part of Bremont's strategy to increase its ecommerce reach and social media presence, the Shanghai boutique opening is accompanied by a new Chinese website, a WeChat mini-programme e-shop, Tmall flagship boutique and existing social media presence across WeChat, Weibo, Red, Bilibili and Xbiao, all tapping into the country's vibrant digital marketplace. This robust portfolio of touchpoints represents Bremont's ambition in China with plans already in motion to open further stores throughout the country.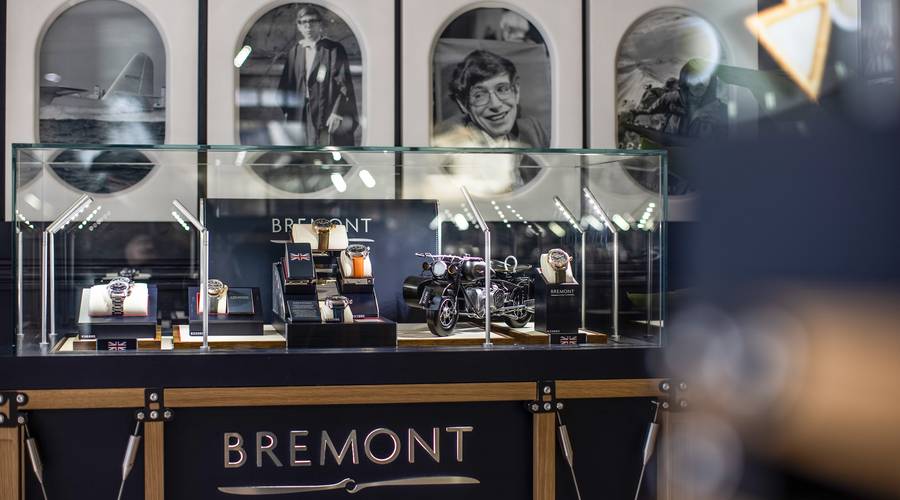 Giles English, Bremont Co-Founder comments, "With China being such an important part of the luxury watch market, we're incredibly excited to have opened in Shanghai. Extending Bremont's presence across Asia has been a goal of ours for some time and we look forward to spending more time in the region as and when we are able. Equally we're delighted to be investing further in bricks and mortar in the UK with our own boutiques and through our partnership with Signet. We are confident that an omni-channel presence is the future and are certainly not shying away from providing our customers with an unparalleled in-store experience that really brings the brand to life and showcases our collections to the best of their ability." 
Bremont's joint venture with Signet Group represents an exciting new kind of retail partnership. Having worked together since 2016 on a wholesale level, and seeing the brand's growth and success in that time, these new store concepts are an innovative way of growing and investing in building the brand further. Bremont unveiled a new, more contemporary store design concept with the opening of The Wing and these new boutiques very much follow the same look and feel.
Rob Gough, Head of Sales, Bremont adds, "Retail is critical to the future growth of Bremont. We have had considerable success with our own boutiques and found the perfect partner in Signet to increase our distribution. Their extensive experience in retail is hugely valuable to making the three new boutiques as successful as possible and now having opened the doors we look forward to a successful partnership together".