APRIL 18th: Time
Ant and Louis are regularly contacting the team back at home via satellite phone. This blog was sent back to England, 20 words at a time by Ant. You can't question their dedication!
Time. On a self-supported expedition, time rules everything. Time is as precious as your food and fuel and is a resource to be used wisely. With a set distance to cover, and only the food and fuel we can carry in our pulks, time dictates everything; 2 extra minutes each leg spent cleaning the frozen fog from your anti-fog goggles must be accounted for or else accumulated those 2 minutes become ground not covered, and ultimately more finite resources burned.
They say fortune favours the brave.
I say in this game she looks with a fonder eye on those that keep their tab settled with Cronus to the second. Time is not on our side. Since changing our plans we have been zig zagging through unexplored valleys trying to reach the ancient Inuit hunting trails to our southeast.
80km as the crow flies is not 80km as the Mad Explorer flies, far from it. The ground surrounding these valleys is 100-200m high sheer vertical blocks of ice and granite. Trying to climb and haul our gear up and over these would prove an expensive endeavour with our time so we are forced to follow the rivers and lakes back and forth as we slowly inch our way towards our goal.
This is not a journey like our Greenland trip in the slightest.
Distances here our much harder won. The inclines we battle and the ground we cover is far, far more technical than anything we ever anticipated. Each funnel between the valleys we go through is often drifted high with snow and we are almost climbing at points to get between sections of low ground and water ways. This is not the same as a polar journey.
This is trail breaking exploration at its purest.
It is not easy or quick going. Since we went through the ice, the temperature has plummeted as low as -36 with the windchill making it close to -50 this is by far the hardest thing we have done to date. In April we were expecting a temperature range of between -5 and -15. What we have had so far is anywhere from above freezing right down to nearly -40, this mix of conditions has made this expedition an extremely challenging affair.
We both have degrees of frostbite in our fingers and toes, time will tell whether the damage we have inflicted will be permanent or not, but right now all we know is it is extremely painful. Each night in our sleeping bags after we rewarm, we both suffer from severe pain and coldness in these areas, this is not a trip for the faint hearted. Through the valleys has been spectacular when we have had the minds to look around. Travelling over frozen white-water which stretches in ice columns over 3 metres high in places has been a highlight, although it was hampered by the proximity to fast flowing open water that took our attention avoiding it for the most part. The hard long days are made manageable by our now extremely slick drills at making an enviable camp each night. No time is wasted in melting snow, and we take it in turns to pick who is joining us on our speaker for dinner each evening.
Phil Collins and The Beegees are regular guests.
We should pick up the Inuits trail in a couple of days, from there we are safe in as much we can arrange another qamuti pick up if we need and we are on a well-established trail. However, the population that uses it is extremely sparse, and we will still need to navigate another few days through mountainous terrain alone in polar bear county.
From there we reach the coast, our finish, and the sea ice. Reports have reached us that the sea ice is extremely thin right now, and time is not our friend on this front either. If it is too thin for a skidoo collection, we will have to attempt the 140km trip ourselves with no alternatives for collection. That distance on fragile sea ice in a vast population of polar bears is a harrowing thought indeed.
We will keep you posted.
APRIL 18th: We're Not Folding
A wise old sage once said: "You've got to know when to hold them, know when to fold them, know when to walk away and know when to run"
Are we folding? Perhaps, but not quite yet. Are we running?
You're damn straight we are.
We half hobbled, half waddled, frozen to our skis. It took hours to clear the ice from our equipment and as we sat near hypothermic in our shelter wearing every piece of warm clothing we owned, we finally got to addressing the great big elephant in the tent.
We can reach the Isurtuq; south and east through another maze of valleys and lakes and from there we can continue our route. The problem? Our delays so far from the conditions and ground have eaten into 5 days of our expedition. Another 3 days puts us on the river further back than we originally intended which means we would have 20 days to ski the 230k up the river and the 130k up and over the ice cap. 18k a day, no mean feat, right? A brave man would say so, though this is pure exploration, and we must make our choices based on the ground we have already seen. The Isurtuq has at least 12 sections from where we join it to where the ground funnels like in the areas that have already caused us huge issues. If one area can slow our pace to 500m an hour what can 12 do over the course of our trip.
Taking ourselves to one of the most remote locations on the island with that knowledge would possibly be called a bad decision by some. The only way out for us up there is a 10 grand twin otter taxi and I'm pretty sure that even a twin otter would struggle to land in some of those valleys.
Sometimes you just have to be realistic.
Cemeteries across the world are made up of countless brave young men and women that are a testament to that.
They say fortune favours the brave. She almost certainly does not. Fortune favours the cunning. Fortune favours the clear critical thinkers. Fortune favours those that can take ego and pride out of a situation and appraise it with rational logic.
And she also favours those with a Plan B.
So, beating about the bush aside let me introduce you to Plan B. I'll be the first to admit that she may not be as glamorous as plan A. She's got a couple of teeth missing, a bit of a lazy eye, but I promise if you squint you can barely tell the difference. And I tell you one thing Plan B does for the lads that Plan A cannot. She saves our lives.
Right now, we are stretched beyond our limits, capabilities and if we're not careful, our supplies.
80km to our southeast lies a series of rivers and lakes used by the Inuit for generations travelling from Pangnirtung to Nettling Lake to hunt and fish. If we can get out this maze we find ourselves in now and onto these waterways we find ourselves on a bonafide proven route to the east coast.
It's not a glamorous or pretty finish to what was an exceptionally ambitious route but if you've ever met Lou or I you will know we are neither A- glamorous nor B-pretty. A technical victory is still a victory in the lad's books, and it beats becoming another foolish Englishman with plans beyond their means.
Plan B is no walk in the park.
We still need to find our way out of this serpent's nest of valleys and rivers in order to reach the hunting trails. From there we end up in a position where we are back close to the coast for a prolonged period which means more diligence and time spent avoiding and preparing for polar bears. Split sleeping shifts and setting the bear fence up each night will eat into what little rest periods we have whilst trying to cover the ground we need to. Also, when all is said and done with the zig zagging through valleys we need to do in order to reach the road to salvation the total distance isn't going to be all that much different.
Plan B is on, all we need to do now is get to it.
APRIL 11TH: THE LATEST UPDATE FROM BAFFIN ISLAND
"They say fortune favours the brave. Clearly however, she does not hold such fond sentiments towards the stupid. Our flying start hit a road bump early on when we woke to -30 degrees on our last morning on the Koukdjuak plains. At this temperature, the snow becomes course like sand and dragging our bodies and gear up the rolling hills proved extremely difficult.
We prayed to the deities for warmer weather, and fate being a cruel mistress obliged in the form of a warm front bringing with it soft powdery snow.
Leaving Nettling Lake further north than our original intention however has proved our undoing. Hills mapped as 80-90 metres turned out to be 3x that number and alongside tidal ridges that only the largest island lake on earth gets, has made getting across the lake very hard going. That hampered our route across Nettling Lake, and with no let up from the soft powder we have now spent the past 4 days wading waist deep through soft snow up and down hills as we inch our way toward the Isurtuq River.
We had hoped that when we hit a tributary of the river, going would prove easier but in fact, it has been made far harder by the funnel effect had on the ground. We are skiing 12 hours each day, and some days we are barely making 8km. It is extremely worrying; our supplies will run out at this rate way before we have a chance to reach the Penny Ice Cap. In these conditions we are still at least a three-day ski from the river and to reach it we are climbing/skiing our way through a unnamed/unexplored valley filled with ice falls. The light at the end of the tunnel seems very far away indeed. When we reach the Isurtuq River we will need to check stock and reassess our plans moving forward. The further north we head, the far more difficult getting help will be if we keep hitting ground like this.
The days are long, and they are hard.
As admirable as Captain Scott was, there's no chance we're freezing to death in our tents when the writing is clearly on the wall that this route in these conditions is unworkable.
This has been some of the hardest few days of our lives. Wading waist high through treacle like drifts of snow all whilst trying to drag a pulk behind us up hills and through unexplored valleys has sapped us of almost all our energy.
However, this is the nature of true exploration. We are not following decades old waypoints to some random sense of Polar glory.
I'll try to send an update through soon, but if until then you're enjoying our troubled tale, we would appreciate it if you could 'Chuck us a fiver' to the Royal Marines Charity. All funds go towards their mental health initiatives for veterans."
Former Royal Marine Commandos Louis Nethercott and Anthony Lambert met in 2012 after their return from what has been dubbed by the media "The Tour From Hell". They both served a 7-month summer tour in the heart of Helmand, Afghanistan.
Louis was involved in some of the most intense fighting of the entire Herrick campaign and returned to the UK with severe Post Traumatic Stress Disorder. Upon meeting, it was clear the pair shared a mutual passion for all things adventure. As Louis' mental health deteriorated that passion did not falter and even when he was sent away from their unit for treatment the pair would often meet for their own "mini expeditions".
Disenfranchised with the military, Ant left in 2013, with Louis being medically discharged 3 years later for the PTSD he suffered from his experiences in Afghanistan.
In 2016, they embarked on a world first expedition the likes of which has never been accomplished before. Using the skills and discipline provided to them through their diverse military careers they set out to be the first humans to cross the planet's 5 largest islands unsupported, using only human power.
The mission…Bremont Expedition 5.
Due to the unique and varied nature of this challenge their bodies have been pushed beyond endurance, not only will the Bremont Expedition 5 team need to be in the highest physical condition possible, they will need every ounce of their determination and will power in order to complete this remarkable undertaking.
The concept… simple. To become the first humans in history to traverse the 5 largest islands on the planet (Borneo, Papua New Guinea, Madagascar, Greenland and Baffin Island), unsupported, using only human power.
The execution; not so simple, these islands are some of the last wild frontiers on the planet, encompassing the most extreme and diverse environments. Fitness, strength of mind, adaptability and above all the brotherhood shared by Ant and Louis has been crucial in their journey so far, with four islands already conquered they have already shown what can be accomplished despite numerous hardships.
So far, they have successfully traversed four out of the five islands, with Baffin Island remaining as the last crossing to complete this epic, record breaking challenge. With temperatures ranging from -52°C to +35°C, they have encountered terrains including jungle, desert, marshes, mountains and fjords. Yet their toughest challenge is yet to come…
THE FINAL STRETCH: BAFFIN ISLAND 
"Baffin Island. The final frontier. It is the largest island in Canada and fifth largest island in the world. It covers an area of 507,451 square kilometres that is swathed with areas of glacier-enveloped mountains of colossal proportions, permeating dramatic fjords, and vast expanses of monumental lakes. Mount Asgard at 2,147 m is Baffin's tallest peak and nearby Mount Thor features the highest vertical cliff face on Earth (1,250 m). 
We will begin the traverse of this remote island at Qikiqtarjuaq on the East coast. Dragging all of our equipment behind us in pulks weighing up to 120 kg, we intend to ski through the awe-inspiring 100 km mountainous Akshayuk pass before reaching the settlement of Pangirtung.
We will then say goodbye to civilization crossing the frozen Pangirtung fjord inland before skiing over the planets largest island lake, finally finishing our epic journey at the small Inuit artist community of Cape Dorset on Baffin Island's South West shoreline. Travelling 815 km, at the most remote point of the expedition, we will be 450 km from any form of human settlement.
Baffin Island is famous for its large concentration of Polar bears, during its winter they have been encountered as far south as Cape Dorset. Coupled with hurricane force winds, Arctic storms and temperatures that have been recorded as low as -52 C, meaning that Baffin Island will be a truly extraordinary feat for us to finish our remarkable world record attempt." 
THE STORY SO FAR…
BORNEO
"Swimming in croc infested rivers, making a bamboo raft to escape starvation in the jungle, climbing over a jungle clad mountain range are just a few of the exceptionally dangerous activities Louis and I have partaken in since our time in Borneo. However, none of these even come close in perilous comparison to walking on an Indonesian main road at night. After several near misses and watching the second stray dog of our trip getting run over, our nerves were extremely frayed and we promised ourselves we wouldn't be walking on a road during the dark hours again.
We have learnt some very valuable lessons which we will be taking forward to our future crossings, and we have had a lifetime of amazing experiences squeezed into a few weeks. It has been an extraordinarily difficult, but amazing journey that I am immensely proud to have been a part of.
1395km, 39days, Jungles, mountains, rivers, and roads. Job done."
PAPUA NEW GUINEA
"Papua New Guinea; A fantastical feral frontier. A mystical land of magic, sorcery, and tribal communities; some barely changed since the dawn of man.
During April and May 2017, we completed our North to South traverse of this remarkable island along a route the majority of which no outsiders had ever travelled. During our journey, we walked along one of the most dangerous highways on earth, climbed perilous mountains clad with thick barely penetrable jungle, and paddled along a river crawling with pirates, crocodiles, and venomous snakes. Uncovering artefacts such as anti-aircraft guns and downed planes from the second world war, our expedition was truly one of discovery. With the ever-present threat of armed "Raskols" and inter-tribal conflicts following us, skills of negotiation were vital in arranging and maintaining "safe passage" throughout our journey.
This was exploration and adventure at its rawest."
MADAGASCAR
"Madagascar, 'The Red Island'. The fourth largest island on Earth. Famed for its kaleidoscopic biodiversity, towering baobab trees, and its rich and varied cultural heritage. 5000 km of coastline encompasses the islands 592,800 square kilometres, its highest peak is Maromoktra at 2,876 m, with the longest river being the 564 km Mangoky. 
Madagascar has a unique and alluring history. Its geographical position ensured countless waves of traders, settlers and invading forces arrived by sea. Due to the strong maritime association, a multitude of historical lighthouses are scattered throughout the Malagasy coastline. For this reason, we thought it appropriate to make the traverse East to West, lighthouse to lighthouse.
 We travelled across the "8th continent" during the worst plague outbreaks the country has seen in generations. Our lives were put into clarifying perspective as we saw some of the awful hardships faced by one of the poorest countries on earth. Disease, starvation, and malnutrition are a daily factor of life for many people within Madagascar, and this chapter of the expedition had us questioning daily the motivations behind why we were completing this journey.
We were lucky enough to stay in one of the main hospitals in one of the more remote regions of Madagascar; it was an incredibly sobering experience and we were witness to the true principles of humanity within such a harsh land.
As the rainy season had yet to arrive and failed to appear the previous year the rivers had dried up within the islands centre resulting in a total failure of the region's rice crop. Due to the lack of anywhere to resupply water we were forced to cover over a marathon each day pulling all of our supplies on a trailer through the parched sands of the Malagasy hinterlands. 
We finished our journey on the island's West coast, humbled once again at the kindness shown towards us by a population that has so little."
GREENLAND
"Greenland, the largest island on Earth!
 It covers around 2,166,086 square kilometres. The majority of the landmass (81%) is covered by 1,755,637 square kilometres of barren ice cap that is up to 4 km thick in some places. The remaining land consists of narrow, rocky and mountainous coast where all the settlements are located. Its tallest peak is the 3,694 m Gunnbjørn Fjeld, which is also the highest point north of the Arctic circle.
We completed a self-supported crossing of Greenland coast to coast in 2018. Our traverse took place from the small, remote settlement of Isortoq on the East coast to Kangerlussuaq's fjord on the western coast. As a team, we dealt with the challenge of having to man haul all of our equipment up steep slopes until we reached the polar ice sheet. From here we skied across the ice cap dragging all of our supplies behind in pulks, before descending into Kangerlussuaq.
During this expedition, we pulled heavy pulks weighing up to 120 kg each. We endured extremely cold temperatures as low as -25C with windchill factor of -40C and winds of 80 mph plus. Other hazards included hidden crevasses and the threat of Polar bears. Although the 565 km journey is a proven route, this expedition was extremely demanding both physically and mentally."
EXPEDITION 5 WEAR...
SUPERMARINE S500
The first diving watch Bremont ever produced was the 43mm Supermarine 500 which was introduced back in 2009. Co-Founders Nick and Giles English had wanted to build a robust but beautifully engineered diving watch that was very practical in design, but also tied into the brand's strong aviation heritage.
SHOP THE SUPERMARINE S500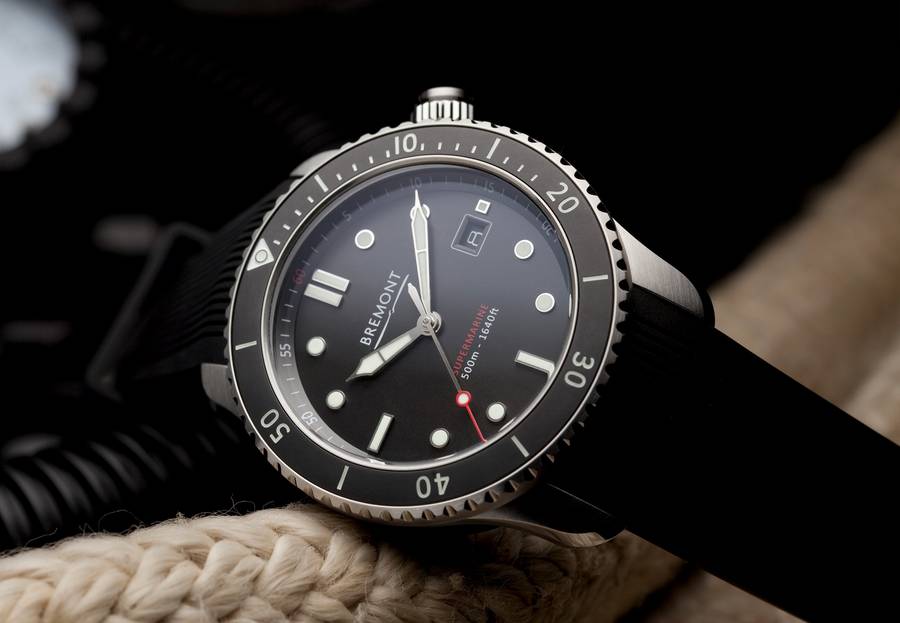 Q&A WITH EXPEDITION 5
Bremont: What have you learned from your previous 4 expeditions that you will take into this one?
Expedition 5: An extreme sense of humility and respect for nature, trying to beat these environments doesn't work. Learning from local people, taking things a day, hour or minute at a time and just dealing with what is in front of you is important. Thinking too far into the future can be to overwhelming, taking one step at a time and trusting our abilities helps to stay positive and focused. 
Bremont: Talk us through your kit and your essentials for the expedition
Expedition 5: Obviously we have the bigger specialist items like our Pulks, down equipment, sleeping bags etc that are all designed to work at extreme temperatures but it's often the detail that can make our lives slightly less difficult, big pulls on zips so we can use them with mitts on, mask to protect us from cold wind, oh and of course ear plugs for Ant's snoring.
Bremont: Are there any luxuries or home comforts you're sneaking in the bag?
Expedition 5: Not much, in fact nothing - all is essential, the main things that feels like luxuries are tea bags, sugar and zinc tape to prevent blisters.
Bremont: How crucial is time going to be to this expedition?
Expedition 5: Extremely important. We have a finite amount of food and fuel, to make our distance in the time window we have, we must maintain an extremely disciplined routine. We ski for 50 minutes and spend 10 minutes 'resting' (getting a mouth full of food and a cup of hot water). We continue this for between 10 and 12 hours a day. The smallest slip in timings compounds over the days and weeks and could cause us to fall short of our goal.
Bremont: What's the greatest dangers/risks you might face?
Expedition 5: Polar bears (there are lots on Baffin Island) and crevasses as we ascend and descend the penny ice cap and the extreme cold.
Bremont: What are the pros and cons of spending so much time isolated together?
Expedition 5: We are a good team and have been through a lot of interesting and dangerous situations together. Knowing that I have a steadfast, capable and all-round badass dude to help me out if it hits the fan is obviously a massive plus. We very rarely both have a bad day at the same time, so one of us is in a position to raise morale or pick up any slack if required.
I can't think of any real cons, some time we disagree on things or wind each other up a bit but we talk about it and always arrived at the best decision for us as a team - no way we could do this without each other.
Bremont: Why should people follow you on this expedition?
Expedition 5: Our trips are real, not driven by ego or external validation. We are just two guys trying to learn more about ourselves and the world we live in by pushing our limits. We often don't get it 100% right but are honest about it. It's just us two, no support, no film crew, real deal stuff - there doesn't seem to be much of that around now a-days.


Both Louis and Ant have active front line experience from their time serving in Afghanistan. They both feel that the challenges faced by Bremont Expedition 5 are insignificant compared to the daily challenges faced by many of their former colleagues wounded in the service of their country. For this reason they are using Bremont Expedition 5 to raise funds for The Royal Marines Charity, and in particular to raise awareness for the mental health issues affecting serving and former serving personnel; for Louis and Anthony this is cause particularly close to their hearts.
Stay tuned for regular updates from Louis and Ant on which will be posted to this page, and through their Instagram page @the_mad_explorers
FIND OUT MORE ABOUT THE BREMONT EXPEDITION 5 TEAM