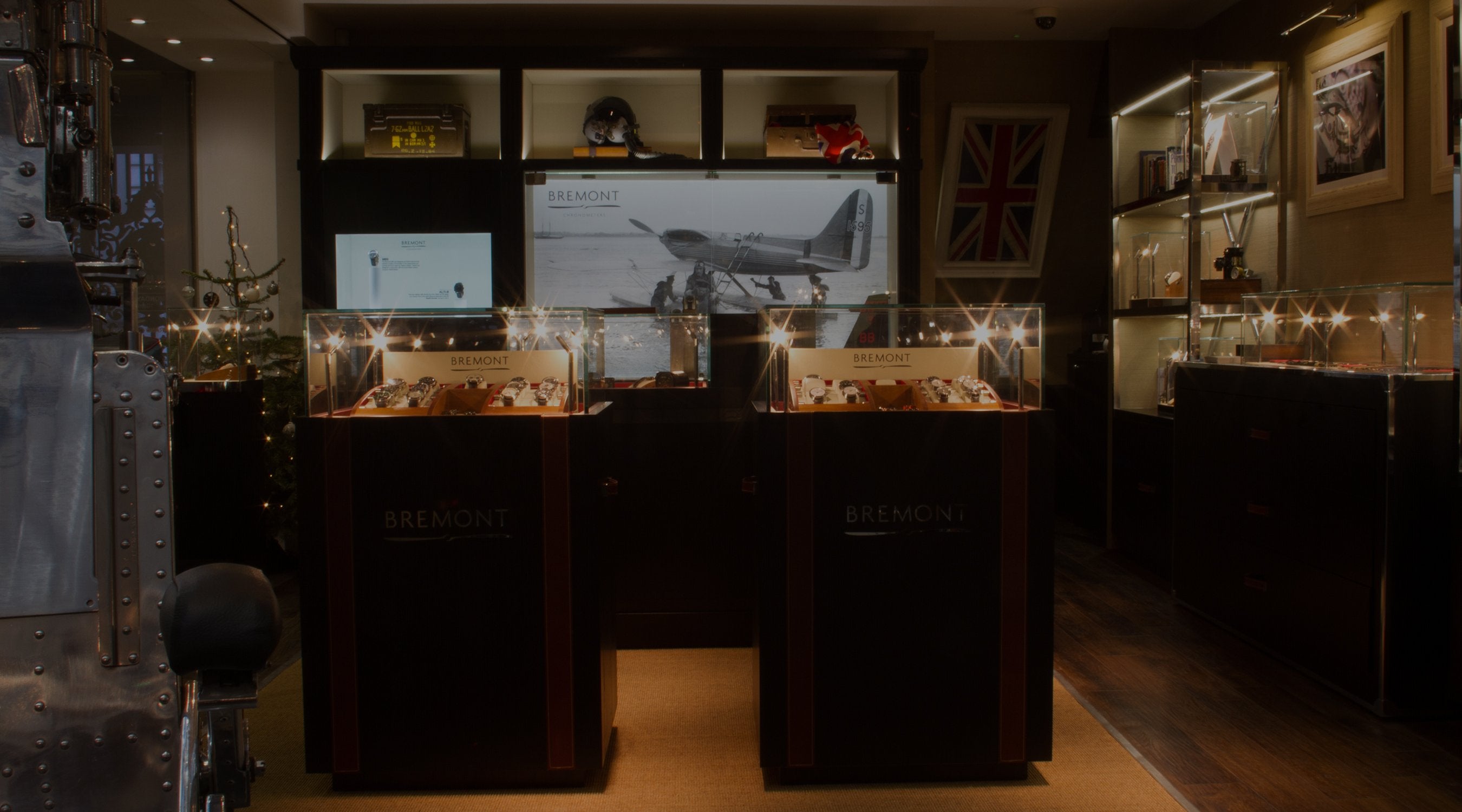 Bremont boutiques
City of London
Store details
Royal Exchange, 12 The Courtyard, London EC3V 3LQ United Kingdom Telephone: +44 (0)20 7220 7134
Opening times
Monday: 10am - 6pm Tuesday: 10am - 6pm Wednesday: 10am - 6pm Thursday: 10am - 6pm Friday: 10am - 6pm Saturday: Closed Sunday: Closed SEASONAL HOURS Wednesday 20th Dec: 10am - 6pm Thursday 21st Dec: 10am - 6pm Friday 22nd Dec: 10am - 6pm Saturday 23rd Dec: Closed Sunday 24th Dec: Closed Christmas Day: Closed Boxing Day: Closed Wednesday 27th Dec: Closed Thursday 28th Dec: Closed Friday 29th Dec: Closed Saturday 30th Dec: Closed Sunday 31st Dec: Closed New Year's Day: Closed Tuesday 2nd Jan: 10am - 6pm Wednesday 3rd Jan: 10am - 6pm
The Bremont boutique in the iconic Royal Exchange building in the City follows on from the success of our award-winning Mayfair flagship store which opened its doors in 2012. Welcoming, relaxed and with a 'club' like feel, be sure to visit our store to discover the collection when we reopen.
In addition, we are available to offer a consultation through a video call. To arrange a convenient appointment please contact us.
Our highly trained Bremont staff are experts in the workings of each watch as well as the stories behind them and would be pleased to guide you through any queries that you might have. We are currently able to process any sales remotely and purchases can also be made on www.bremont.com. Should you wish to choose our Click & Collect service we would be happy to book an appointment for you.
All phone numbers and email addresses are active and we are always here to help.
We're thrilled to be able to offer you a FREE Concierge Delivery Service by a Bremont boutique specialist, who will be available to hand-deliver your Bremont watch to your chosen address within the Greater London Area.
Please note; we offer interest Free Credit finance with V12 and to find out more about our services, please call us on +44 (0) 207 220 7134
JOIN US FOR A GLASS OF GUSBOURNE SPARKLING WINE