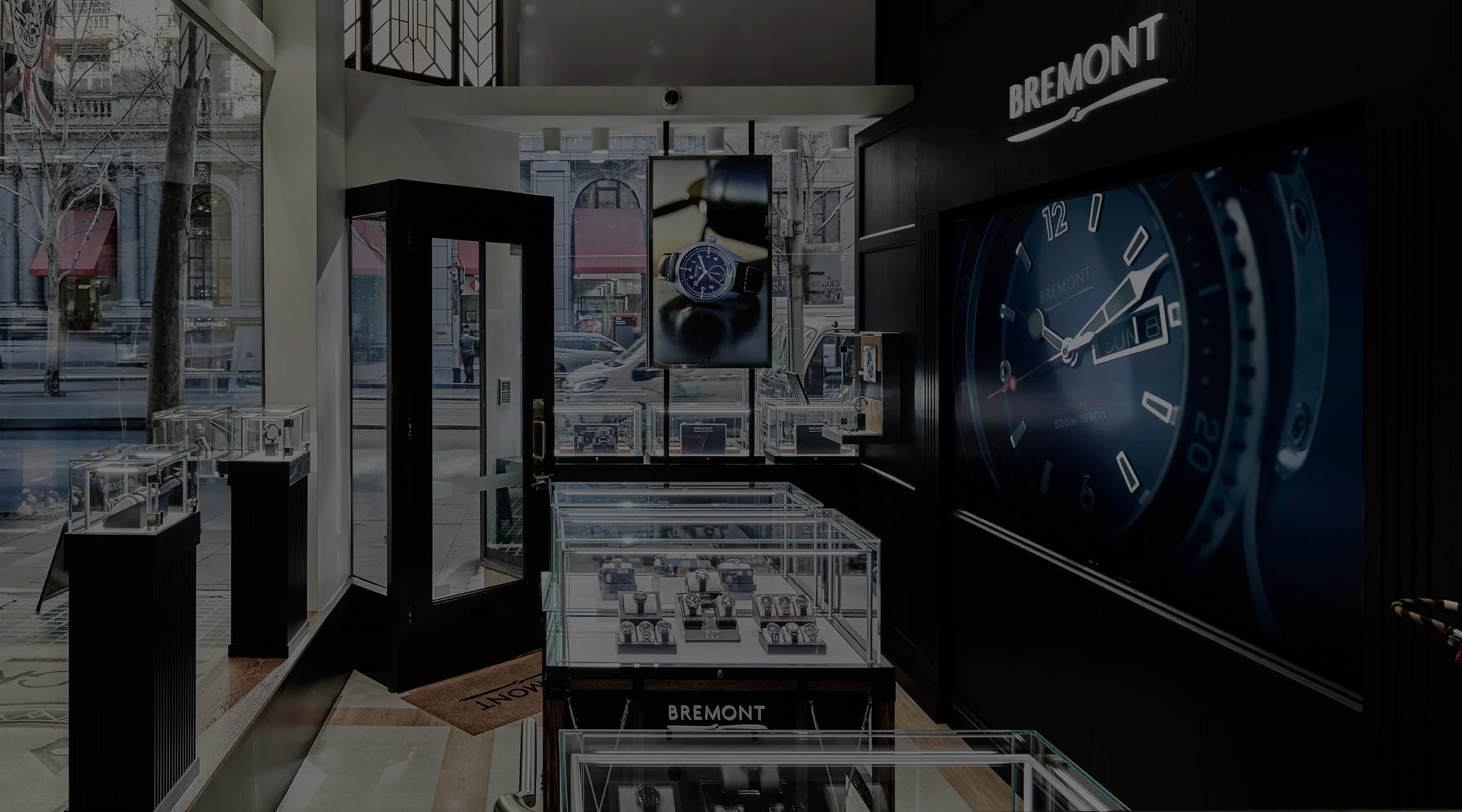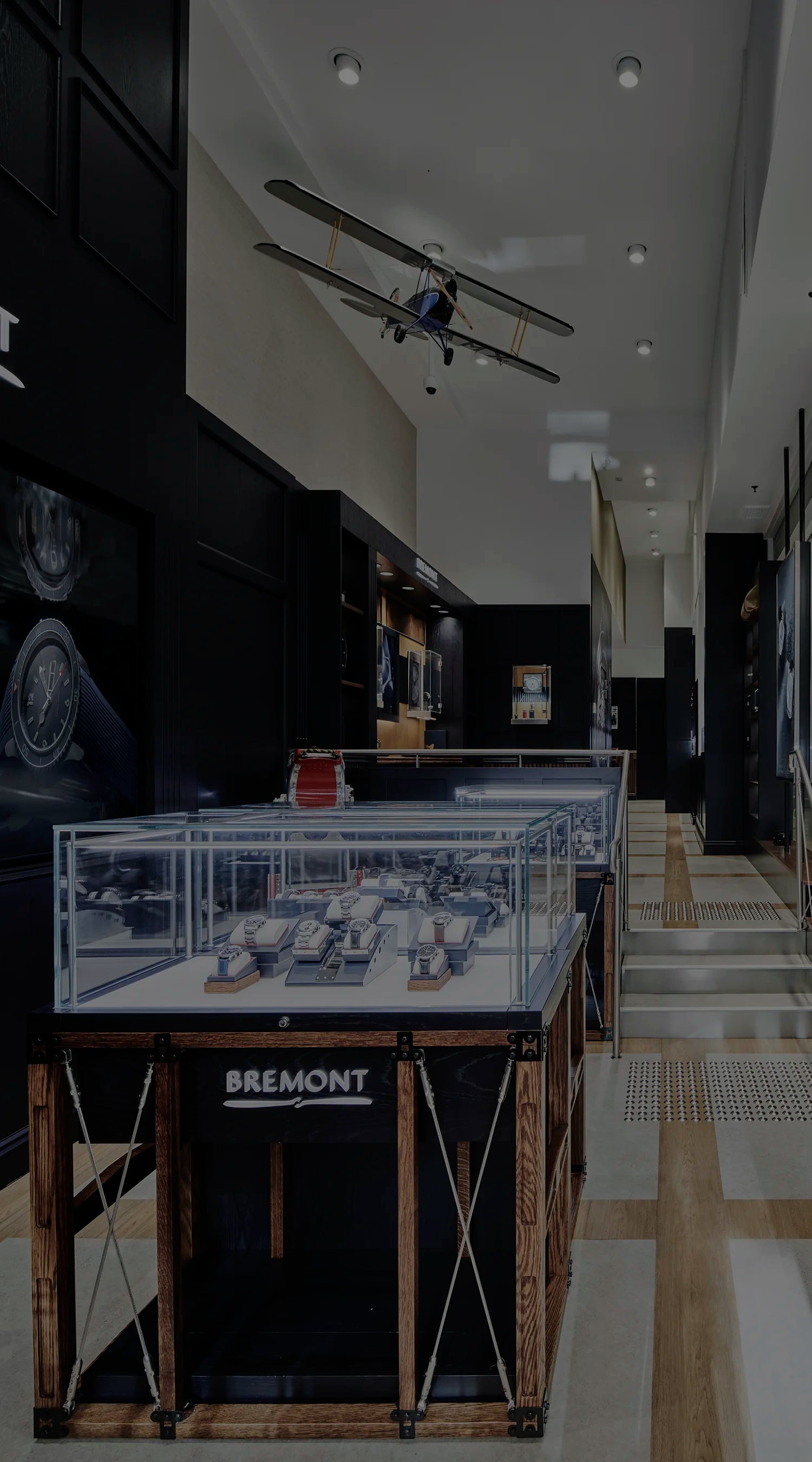 Bremont boutiques
MELBOURNE
292 Collins Street, Melbourne, VIC 3000
speak to a highly trained expert
Discover the world of Bremont watches at our newly opened Melbourne boutique. Allow our warm and knowledgeable in-store experts to assist you in discovering the perfect timepiece while experiencing unparalleled hospitality in a relaxed setting. Established recently in the heart of Melbourne, this boutique promises a unique brand experience with a captivating ambiance.

We look forward to welcoming you to this Bremont Melbourne Boutique where you can shop our collection of elegant British men's and ladies' watches whilst enjoying a complimentary drink. Please fill in the appointment form below so we can ensure we have the watch you're looking for ready for you to try on, and can dedicate time helping you find the right fit.
Purchase a watch, strap or accessory

Strap change & bracelet adjustment
You're invited to be among the first to experience our stunning new boutique, 292 Collins Street, Melbourne. Book a private appointment by filling out the form below or emailing melbourne.boutique@bremont.com.
We will do our best to accommodate your requested date & time and we will be in touch to either confirm your appointment or to suggest an alternative.
The Melbourne boutique
Welcome to our newly unveiled Melbourne boutique, open at 292 Collins Street. Step into the historic Block Arcade and discover the captivating world of Bremont, where our watches find their perfect home.

We invite you to explore Bremont watch collections, accessories, and a selection of limited-edition timepieces that epitomise the essence of Bremont's craftsmanship. Be captivated by the innovative displays that bring to life Bremont's stories, including a special tribute to our iconic testing program and the esteemed MB watch collaboration – a genuine Martin Baker ejection seat.
OPENING TIMES
Sunday 1st Oct: 10am - 4:00pm
Monday 2nd Oct: Closed

Monday: 10am - 5:30pm
Tuesday: 10am - 5:30pm
Wednesday: 10am - 5:30pm
Thursday: 10am - 5:30pm
Friday: 10am - 5:30pm
Saturday: 10am - 5:30pm
Sunday: Closed

TELEPHONE: +61 (03) 9639 9440
EMAIL: melbourne.boutique@bremont.com
get directions
Seasonal Hours
Wednesday 20th Dec: 10am - 7pm
Thursday 21st Dec: 10am - 7pm
Friday 22nd Dec: 10am - 7pm
Saturday 23rd Dec: 10am - 5:30pm
Sunday 24th Dec: 11am - 4pm
Christmas Day: Closed
Boxing Day: 11am - 4pm
Wednesday 27th Dec: 10am - 5:30pm
Thursday 28th Dec: 10am - 5:30pm
Friday 29th Dec: 10am - 5:30pm
Saturday 30th Dec: 10am - 5:30pm
Sunday 31st Dec: Closed
New Year's Day: Closed
Tuesday 2nd Jan: 10am - 5:30pm
Wednesday 3rd Jan: 10am - 5:30pm